Are You Preparing For Another Banking Crisis? You Should Be
Our latest article: "Are You Preparing For Another Banking Crisis? You Should Be."
As part of our ongoing series of articles on bank stability, and at the request of many of our clients, we wanted to address the major risks we foresee for bank stability in the coming years.
But before we begin, I want to take this opportunity to remind you that we have reviewed many larger banks in our public articles. But I must warn you: The substance of that analysis is not looking too good for the future of the larger banks in the United States, details for which are here.
Moreover, if you believe that the banking issues have been addressed, I'm sorry to inform you that you likely only saw the tip of the iceberg. We were able to identify the exact reasons in our public article which caused SVB to fail, well before anyone even considered these issues. And I can assure you that they have not been resolved. It's now only a matter of time.
The Fed has recently published the October 2023 Senior Loan Officer Opinion Survey on Bank Lending Practices. This is a quarterly survey conducted by the Fed, which provides insights into the largest U.S. banks' lending practices.
We have been discussing various issues in the U.S. banking system for more than 18 months now, and we expect that those issues are likely to lead to a major crisis in the sector. Notably, the October 2023 survey shows that the system is currently facing the issues of which we have been warning.
According to this report, banks most frequently cited a less favorable or more uncertain economic outlook, reduced tolerance for risk, deterioration in the credit quality of loans and collateral values, and concerns about funding costs as important reasons for tightening lending standards over the third quarter. If you follow our work on banking, you have probably noticed that we have published quite a lot of articles warning our readers of these problems.
So let's have a closer look at the October survey.
First, during the third quarter, 32% of banks tightened their lending standards on C&I (commercial and industrial) loans to large and middle-market terms, and 28% of banks tightened their standards on C&I loans to small firms. This should not come as a surprise, given that 37% of U.S. companies are on the brink of default.


In particular, if we look at loans to large and middle-market companies, the tightening was reported for costs of credit lines, spreads of loan rates over the cost of funds, and premiums charged on riskier loans.



Second, a significant number of banks reported tightening standards for all types of CRE loans.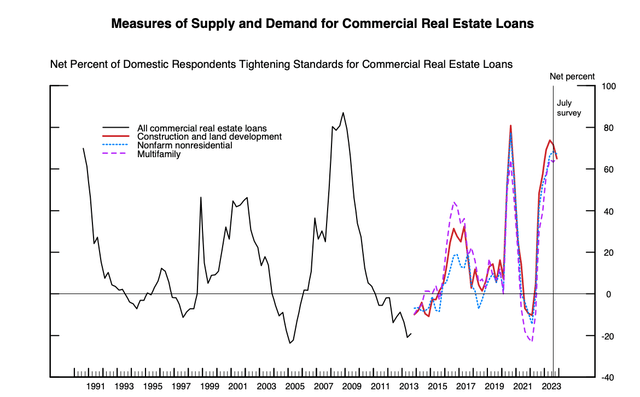 According to the Fed, a significant number of banks have also tightened their lending standards on credit cards and other consumer loans.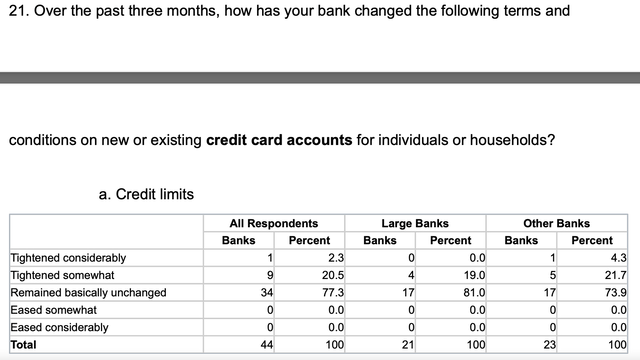 It's pretty clear that stricter lending standards are very likely to lead to an economic slowdown or even a recession-it's Economics 101. Obviously, a recession is very likely to trigger a major crisis in the U.S. banking system, given all the issues the sector is currently facing.
Finally, it's worth noting that following the publication of this survey, Deutsche Bank, which had been bullish on the U.S. stock market and U.S. banks, unexpectedly said that "a recession in the U.S. is imminent or already happening." The research department of the bank has published the following chart: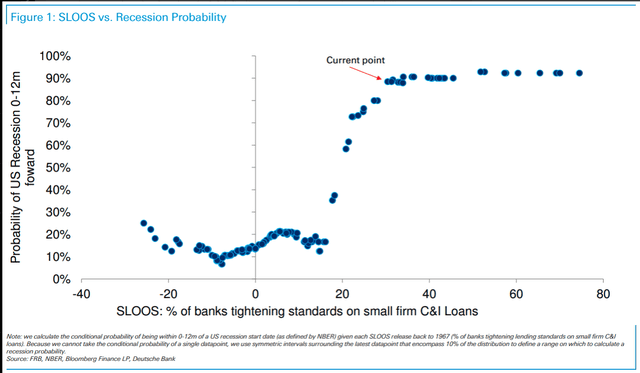 As we can see, given that 28% of banks have tightened their standards on C&I loans to small firms over the third quarter, the probability of a U.S. recession in the next 0 to 12 months is almost 90%. As was the case with Moody's, DB's report came out with a significant time lag relative to our analysis, as we have been discussing the issues to which DB has been referring for the past 18 months.
Bottom Line
Various indicators are showing that the situation in the U.S. banking system is challenging and continues to deteriorate. We believe all retail depositors should be prepared for a potential major crisis.
At the end of the day, we're speaking of protecting your hard-earned money. Therefore, it behooves you to engage in due diligence regarding the banks which currently house your money.
You have a responsibility to yourself and your family to make sure your money resides in only the safest of institutions. And if you're relying on the FDIC, I suggest you read our prior articles which outline why such reliance will not be as prudent as you may believe in the coming years.
It's time for you to do a deep dive on the banks that house your hard-earned money in order to determine whether your bank is truly solid or not. Our due diligence methodology is outlined here.